Water Purifier Installation Projects Conducted by PureHydro
Water purification has become a primary necessity because of unfavourable human activities that lead to excess water pollution. Water has a natural self-cleansing capability through biological processes. Ground layers of earth filter contaminants to a certain extent. However, it is not enough to produce raw water that we can consume without further purification. Also, surface water resources like rivers, streams, and oceans are contaminated by various chemical and biological wastes due to industrial and agricultural activities. Water purification has become a primary necessity because of unfavourable human activities that lead to excess water pollution. To become part of the solution to make clean water available for consumption for everyone, PureHydro strives to provide water treatment solutions for domestic and industrial purposes. We utilize the latest technology with a simple operating system that is hassle-free for everyday use. PureHydro.Ik projects done for many industries, institutes and households best serve to provide purified water for consumption. These filters have various options for installation to mount on the wall, fix under the sink, or have it on the countertop. We also have handy filter pitchers to have readily available pure water on your dining tables. Every client has unique requirements. Therefore we help them choose the most suitable water filtration system for them.
PureHydro.Ik projects include many water purifier installations for schools. Mallavi Mayil Vahanam school, Kajuwatte school, Aluyatawala school and Koonwewa Vidyalaya are a few of the schools that benefited from our Blue Wave water purifiers. We also have worked with Field Crop Research and Development Institute Mahailuppallama to install the Blue Wave Water filter. This filter is specially designed for institutes and schools where a large quantity of water needs to be purified. It is equipped with multiple purification technologies such as RO, UV, carbon and sediment to produce water completely free from all impurities. Hospitals require even more purified water regularly. For Divisional hospital Rajanganaya, both Blue Wave and Jambo Sediment filters were used and we have installed AURA Cebilon S for Kilinochchi General Hospital. PureHydro.Ik projects have been a great success for our clients with our reliable after-sales services.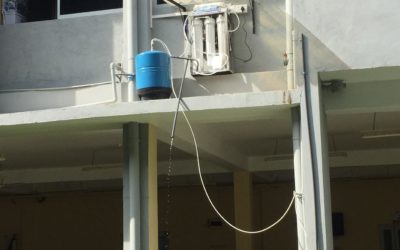 Kilinochchi General hospital is one of the leading hospitals in the Kilinochchi district. Due to a lack of clean water, patients and the managing staff of the hospital have to face a lot of issues on a daily basis. It made it extremely difficult for in-house patients and others to utilize water for various purposes. This badly affected sanitation and hygiene of the patients and they were at the risk of developing water-related diseases.
read more